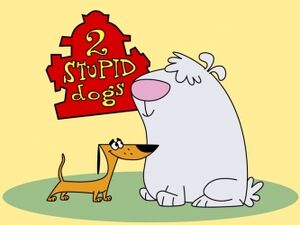 2 Stupid Dogs is an animated comedy series produced in 1993 by Hanna-Barbera for TBS. It was later rerun on Cartoon Network. The main characters are a small brown dog and a large gray dog, neither of whom is named, who get into absurd situations.
Summary
2 Stupid Dogs is about a big dog and a little dog, neither of whom, as the title explains, is very intelligent, and their everyday misadventures. The animation style is unusual for the time: a very flat, simplistic style similar to early Hanna-Barbera cartoons of the '50s and '60s, but with early '90s humor and sensibility.
In addition, the Big Dog talks much less than the Little Dog does and most of the time, the Big Dog talks about food. It also did not have a series structure, similar to many humorous cartoons and sitcoms. The show did not follow a continuous storyline — what happens in one episode has little to no effect on another. 2 Stupid Dogs contained very brief sexual innuendos, as did other such cartoons of the time such as Rocko's Modern Life.
A supporting segment, Super Secret Secret Squirrel, features Secret Squirrel and Morocco Mole in new stories.