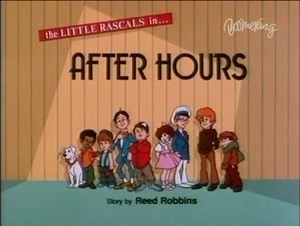 First aired: 1 October 1983
Story by: Reed Robbins
Duration: 11 minutes
Cast
Summary
The Rascals are working within the stockroom at Lathrop's Department Store. Some of the boys are doing other things when they are supposed to be working, such as Porky eating, and Buckwheat working on his latest invention, a gift-wrapping machine with mechanical hands.  The supervisor comes in and scolds the boys for goofing off. Meanwhile, Butch, together with his infant brother Spike, enter the stockroom, threatening the boys.  Spike gets out of his stroller and puts a doll in his place. Butch exits the store together with the doll, without realizing he is shoplifting. Spike crawls throughout the store, causing the Rascals to look for him and bring him back to Butch. Then, a suspicious adult male, at times acting like a mannequin, is spying on the Rascals.  After Butch returns with the doll, he is determined to beat up the Rascals, but they deny any wrongdoing. The Rascals find that a man, the same one who acted like a mannequin, is robbing boxes of merchandise and putting them into a van. The thug catches the Rascals snooping around and holds them hostage inside an upside down metal basket, as if they were in a cage, but they escape using Buckwheat's gift-wrapping machine and capture the crook afterwards!  The supervisor praises the Rascals for successfully foiling the crime, and based on the Rascals' cheering, implies they are receiving a reward.  Meanwhile, Spike surrounds Butch using remote controlled police cars.
Trivia
This is the second of two appearances for Butch's baby brother, Spike. His other was in "Tiny Terror" which was previously aired in the first season and reran the week after this episode aired.
The ages of the Rascals supposedly range from 4 to 10. If the Rascals were real and took a job like this at their age, it would be a violation of current U.S. labor law, as employees are required to be at least 16 years of age in order to qualify for work.