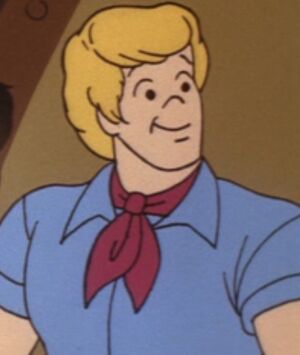 Alan Mayberry is a character from Josie and the Pussy Cats.
About Alan
He is the roadie hunk who supports the band. Both Josie McCoy and Alexander's sister, Alexandra Cabot, battle for Alan's affections, even in Josie and the Pussy Cats in Outer Space.
Alan serves as the leader to act as detective to find out the masked culprit and subdue the enemy masterminds throughout space. Alan has a strong resemblance to Fred Jones from Scooby Doo Where Are You!, who had the same hairstyle and a full fringe, as the color of his hair is light auburn.
Alan usually wears a light blue short-sleeved button shirt, a red ascot, gray pants, and brown shoes.
In Josie and the Pussy Cats in Outer Space, like Alexander, Alan wears a blue space suit with a blue-gray collar, matching blue-gray gloves, and black shoes.
Alan also appeared in The New Scooby-Doo Movies 202, "The Haunted Showboat".
Gallery