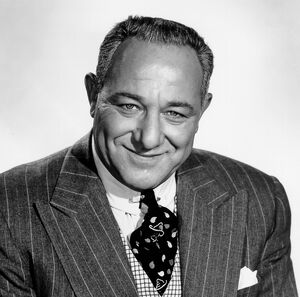 Alan Reed (born Theodore Bergman, August 20, 1907–June 14, 1977) was an American voice actor, best known as the voice of Fred Flintstone from 1960 until his death in 1977. Reed was also the voice of Touché Turtle's sidekick, Dum Dum.
Biography
Character player Alan Reed was a strong, burly presence on film and TV but he would be better remembered in the long run for his equally strong, distinctive voice.
He gave vocal life to the prehistoric cartoon character Fred Flintstone on the prime-time TV series The Flintstones (1960) in the 1960s, and it is this direct association that has kept his name alive long after his passing. Reed even thought up and introduced the Flintstonian catchphrase "Yabba-dabba-doo!" for his beloved animated character. After majoring in journalism at Columbia University, the New York born-and-bred actor went on to an acting career at the Provincetown Playhouse. His vocal talents were immediately discovered and he turned to radio, becoming a prime announcer for that medium. A master of over 22 foreign dialects, he also worked steadily on Broadway with the Theatre Guild. On radio, he billed himself under his real name of Teddy Bergman for comedy parts and under the name Alan Reed for dramatic work. Reed was featured on the best radio shows of the time including The Shadow, The Fred Allen Show, Life with Luigi (which he later took to TV), and My Friend Irma.
In films, he had a comic Runyonesque appeal and played in such fare as The Redhead and the Cowboy (1951), Emergency Wedding (1950) and Here Comes the Groom (1951). His more dramatic roles came with The Postman Always Rings Twice (1946) and The Desperate Hours (1955). One of his most unusual parts was his portrayal of Pancho Villa in Viva Zapata! (1952) starring Marlon Brando. He also supplied the voice of Boris in Disney's Lady and the Tramp (1955). The popular animated series and various offshoots made up most of his later work after The Flintstones premiered in the early 1960s. Reed died after an extended illness in 1977.
External links