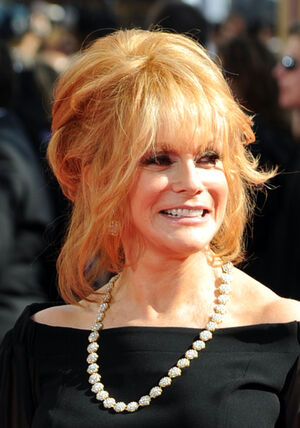 Ann-Margret Olsson (born 28 April 1941, Valsjöbyn, Jämtlands län, Sweden) is a Swedish actress. She was a guest star in "Ann-Margrock Presents", the 16 September 1963 episode of The Flintstones.
Biography
This Swedish-born actress and singer was one of the most famous sex symbols and actresses of the 1960s and beyond. She continued her career through the following decades, into the 21st century.
Born in Sweden in 1941, Ann-Margret came to America at age six. She studied at Northwestern University and left for Las Vegas to pursue a career as a singer. She was discovered by George Burns and soon afterward got both a record deal at RCA and a film contract at 20th Century Fox.
In 1961, her single "I Just Don't Understand" charted in the Top 20 of the Billboard Hot 100 Charts. Her acting debut followed the same year as Bette Davis' daughter in Frank Capra's Pocketful of Miracles (1961). She appeared in the musical State Fair (1962) a year later, before her breakthrough in 1963. With Bye Bye Birdie (1963) and Viva Las Vegas (1964) opposite Elvis Presley, she became a Top 10 Box Office star, teen idol, and even Golden Globe nominated actress. She was marketed as Hollywood's hottest young star and in the years to come was awarded the infamous nickname "sex kitten."
Ann-Margret's following pictures were sometimes ripped apart by critics (Bus Riley's Back in Town [1965] and The Swinger [1966]), sometimes praised (The Cincinnati Kid [1965]). She couldn't escape being typecast because of her great looks. By the late 1960s, her career stalled, and she turned to Italy for new projects. She returned and, by 1970, she was back in the public image with Hollywood films (R.P.M. [1970] opposite Anthony Quinn), Las Vegas song-and-dance shows, and her own television specials.
She finally overcame her image with her Oscar-nominated turn in Mike Nichols' Carnal Knowledge (1971) and succeeded in changing her image from sex kitten to respected actress. A near-fatal accident at a Lake Tahoe show in 1972 only momentarily stopped her career.
She was nominated for another Oscar in 1975 for Tommy (1975), the rock opera film of the British rock band The Who. Her career continued with successful films throughout the late 1970s and into the 1980s. She starred next to Anthony Hopkins in Magic (1978) and appeared in pictures co-starring Walter Matthau, Gene Hackman, Glenda Jackson, and Roy Scheider. She even appeared in a television remake of Tennessee Williams' masterpiece play A Streetcar Named Desire in 1983. Another late career highlight for her was Grumpy Old Men (1993) as the object of desire for Jack Lemmon and Walter Matthau. She continues to act in movies today.
Ann-Margret has been married to Roger Smith since May 1967.
External Links