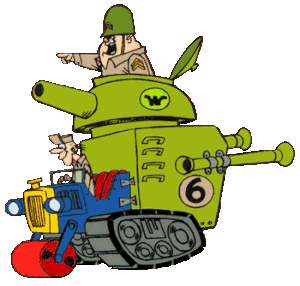 The Army Surplus Special, the #6 of the Wacky Races. It's the vehicle used by Sgt. Blast and Private Meekley.
The Army Surplus Special is an army tank/jeep hybrid with a small steamroller's wheel attached to the front. The Army Surplus Special makes use of its tank facilities while racing, including its cannon, which can spin around to face forward or back, and the hatch, where Sergeant Blast rides. The Surplus Special is equipped with a supply of land mines and back-mounted thrusters. The Surplus Special is capable of firing its gun backwards to propel itself forwards for extra speed. As their names suggest, Private Meekly is very meek and merely follows orders without question, while Sergeant Blast "blasts" orders in a stereotypical drill-sergeant voice.
Community content is available under
CC-BY-SA
unless otherwise noted.