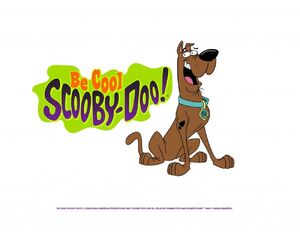 Be Cool Scooby-Doo! is the twelfth animated series starring Scooby-Doo. Warner Bros. Animation produced the series for Boomerang in the United States. It debuted 5 October 2015.
Summary
Be Cool, Scooby-Doo! is an all-new 22-minute animated comedy series from Warner Bros. Animation. The Scooby gang is back with a modern comedic twist on the beloved classic. With high school over and one last summer to live it up, the gang hits the road in the Mystery Machine, chasing fun and adventure. But monsters and mayhem keep getting in the way.
Voice Cast
Episodes
Mystery 101
Game of Chicken
All Paws on Deck
Poodle Justice
Grand Scam
Trading Chases
Be Quiet, Scooby-Doo!
Screama Donna
Kitchen Frightmare
If You Can't Scooby-Doo the Time, Don't Scooby-Doo the Crime
Area 51 Adjacent
Where There's a Will, There's a Wraith
Me, Myself and AI
Production
Jay Bastian says of the development of this show, "The last Scooby-Doo [series] we did was a little more intense, and a little scarier. This new one is much more cartoony and silly. [...] What we've got so far is really funny."
To match the comedic tone, the gang was given a more edgy look; they're basically the hipsters of their world. Just as in the original series, there will be no romantic attachments within the gang and Scooby will have limited "dialogue". Fred has also outfitted the Mystery Machine with a slew of gadgets.
Trivia
As a tie-in to San Diego Comic-Con International 2014, TV Guide and Warner Bros. partnered up and released a special edition of their current and upcoming shows, including an exclusive preview of Be Cool, giving a glimpse of what to expect and the first look of what the whole gang will look like.
This is the first Scooby-Doo series to be developed without the involvement of Casey Kasem, who died on June 15, 2014.
External Links
Community content is available under
CC-BY-SA
unless otherwise noted.