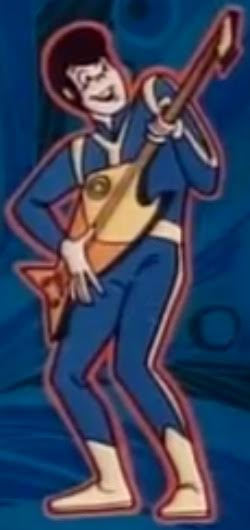 Biff Starke is a character in Jabberjaw. He was voiced by Tommy Cook.
About Biff
He plays the lead guitar for the Neptunes. He is the leader of the group, responsible for booking all the band's gigs, He is Shelly's boyfriend. Sometimes, his plans tend to backfire on him, and a bit of problems with his and Shelly's relationship.
Biff is a slim, Caucasian, young man with jet-black hair. He wears a blue diving suit with a yellow Y-shape on the front of the upper half of his suit with matching waistband, a yellow streak around each shoulder and on each long sleeve, a yellow streak on the side of each pant leg, and yellow boots.
Gallery