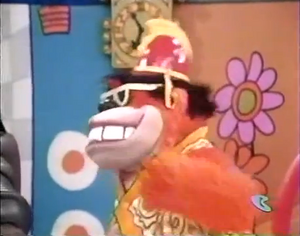 Bingo is an orange full-bodied gorilla puppet character from The Banana Splits Adventure Hour. He was performed by Terence Henry and voiced by Daws Butler.
About Bingo
Bingo usually serves as a second banana while Fleegle takes the role as leader.
One of the recurring segments in the show is "Coach Bingo", where Bingo keeps Drooper, Fleegle, and Snorky active in sports competitions.
Each of the Banana Splits occasionally play instruments. Bingo plays the cymbal and also the drums.