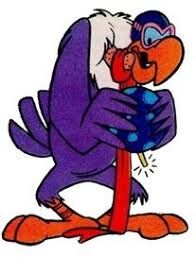 Blast-Off Buzzard is a character in CB Bears. Though he does not speak, his vocal effects were provided by Daws Butler.
About Blast-Off
He is a buzzard in aviator gear and a de facto villain who chases Crazylegs, a wacky football helmet-wearing snake who outruns the buzzard.
Trivia
Their situation was very similar to Wile E. Coyote and the Road Runner.
They appeared in two episodes of Tom & Jerry Kids Show where they both can speak unlike on CB Bears.