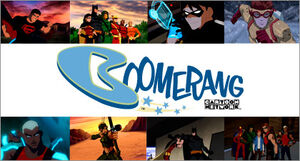 Boomerang is a cable and satellite television channel spun off from Cartoon Network. Boomerang was originally programmed with classic cartoons from Hanna-Barbera, Warner Bros. and MGM after its parent network shifted its focus to in-house productions and imported cartoon series.
History
Boomerang was introduced 1 December 1992, two months after the original introduction of Cartoon Network, as a block of classic cartoons going all the way back to the start of the 20th century. Before early 2000, it didn't have a proper logo. Thus, like Nick at Nite, Boomerang's logo was constantly different, along with a different theme for the block. Sometime before the rise of the channel of the same name, it started using the following logo, especially during the pre-launch animation of the channel.
Sometime before the rise of Boomerang as a full-featured channel, the Cartoon Network block of the same name adopted a "Boomerang" wordmark, in which the B actually resembles a boomerang and sometimes has a trail of stars. It was additionally seen during the animation loop before it launched as a channel. It finally was introduced as a full-featured channel for classic cartoon programming on 1 April 2000 in the United States. The block of the same name was still active on Cartoon Network until late 2004, when it finally became only a sister channel of Cartoon Network. This would then become the remaining instance (the other being the 1999 Cartoon Network Productions logo) to still feature the original Cartoon Network logo until the early 2015 redesign. As of 2015, this is now being used as a secondary logo. This logo is still used on Adult Swim's daily sign-off sequence, which airs at 5:59 a.m. ET each day. Primal Screen, who did Cartoon Network's 1997-2004 Powerhouse bumpers, was responsible for creating this logo and its identity.
On 19 January 2015, Boomerang rebranded its channel, adding new shows and keeping only The Flintstones and The Jetsons.
Original Programs
Pink Panther and Pals
Peanuts (new short cartoons adapted from the comic strips)
External Links