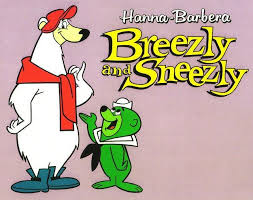 Breezly and Sneezly are a polar bear and seal, respectively, featured in a supporting segment of The Peter Potamus Show and later The Magilla Gorilla Show.
Breezly is continually trying to raid the Arctic military base for food. He never listens to Sneezly's warnings about what Colonel Fusby will do if Breezly gets caught.
Voice Cast
Episodes
No Place Like Home
All Riot on the Northern Front
Missile Fizzle
Mass Masquerade
Furry Furlough
Bruin Ruin
Freezing Fleas
Stars and Gripes
Armored Armour
As the Snow Flies
Snow Biz
Unseen Trouble
Nervous in the Service
Birthday Bonanza
Wacky Waikiki
General Nuisance
Rookie Wrecker
Noodick of the North
The Fastest Bear in the North
Snow Time Show Time
Goat à Go Go
Spy in the Ointment
An Ill Wind
Community content is available under
CC-BY-SA
unless otherwise noted.