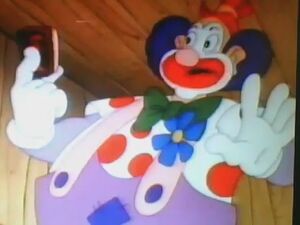 Bubbles the Clown is a character in The Further Adventures of SuperTed episode "Bubbles, Bubbles, Everywhere". He was voiced by Frank Welker
About Bubbles
He escapes the police station and meets Texas Pete, Bulk and Skeleton. He has a dog called Sparky. But Tex does not like Bubbles, so he goes to SuperTed's treehouse and asks for help. SuperTed and Spotty are glad to help Tex trap Bubbles in the big bubble. Tex talks to Bubbles. Then, SuperTed and Spotty blast Bubbles in the big bubble and send him back to the police station.
Community content is available under
CC-BY-SA
unless otherwise noted.