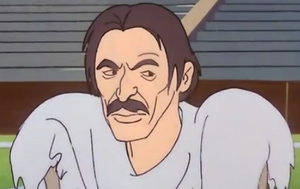 Buck Bender is a character in The Scooby-Doo Show. He was voiced by John Stephenson.
About Buck
He was fired from his job as coach of the Hawks football team by Mr. Prentice and swore revenge.
To get even, he dressed up as the Rambling Ghost, a player from the 1930s who once cursed the same stadium in which the team played after he was booed away, and kidnapped star players of the team. At one point when Mystery Inc. chased Buck, as the Rambling Ghost, into the scoreboard he posed as the scoreboard operator to throw them off and put suspicion on Bulldog Pertowsky who happened to be hiding in there at the same time the Rambling Ghost had entered.
Trivia
Appearances
The Scooby-Doo Show:
114 "The Ghost that Sacked the Quarterback"