Captain Caveman is a character created by Hanna-Barbera for the Captain Caveman and the Teen Angels segments of Scooby's All-Star Laff-a-Lympics. His design was based loosely on that of Rock Slag and Gravel Slag from Wacky Races. Mel Blanc provided the character's voice. Jim Cummings also voiced Captain Caveman in Scooby-Doo! Mystery Incorporated. Tracy Morgan voiced the character in the streaming exclusive animated film Scoob! Jim Conroy voices Captain Caveman in Jellystone!
His "birthday" is May 21st.
Backstory
After being thawed out by the Teen Angels, "Cavey" helped them solve supernatural mysteries, in the Scooby-Doo style. Cavey had super strength, kept live dinosaurs in his fur, and carried a club which enabled him to fly, among its other functions.
Later Appearances
On The Flintstone Comedy Show in the early 1980s, Captain Caveman was living alongside the Flintstones. The Flintstone Kids changed his role yet again, making him the star of the show-within-a-show Captain Caveman and Son where Captain Caveman and his son Cavey Jr. fought many villains including Mr. Billy Bad throughout the show's segment as Freddie, Wilma, Barney, Betty and Philo are frequently seen as fans of his show.
In Scoob!, Blue Falcon and Scooby-Doo encounter Captain Caveman on the journey to the Mystery Island underneath Messick Mountain. Blue Falcon and Scooby then have no choice but to challenge Captain Caveman to a gladiator duel for one of the Cerberus skulls known as the Slaghoople which Captain Caveman had been protecting for a hundred years. Scooby and the Blue Falcon have a tough time during the fight. Dee Dee Skyes fights Cavey while Dynomutt tries to take the Slaghoople just as "Fred" and Shaggy crash the Mystery Machine into the arena, distracting Captain Caveman as he compliments on the dope wheels. Afterwards, Dynomutt defeats Captain Caveman by blasting him to the wall. Captain Caveman later appears during the end credits, where alongside Jabberjaw, Atom Ant, and Grape Ape, he joins Blue Falcon's team known as the Falcon Force.
He has made appearances in Jellystone! and Yabba-Dabba Dinosaurs.
Gallery
Screams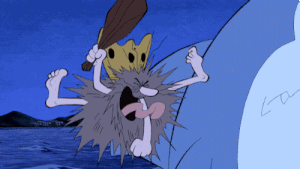 Mel Blanc, Jim Cummings, Tracy Morgan and Jim Conroy have all provided screams for Cavey. Blanc's screams also appear in:
Cummings' screams also appear in:
External Links