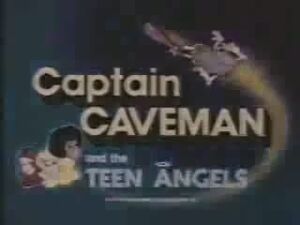 Captain Caveman and the Teen Angels is an animated series produced by Hanna-Barbera for ABC in 1977, as part of Scooby's All-Star Laff-a-Lympics, but later spun off in its own right.
Overview
This series was one of many variants of the Scooby-Doo comedy-mystery format. After being thawed out by the beautiful Teen Angels, Captain Caveman helps them solve supernatural mysteries. Most of the show's humor stems from Cavey's attempts to cope with life among 20th-century humans.
The Teen Angels travel in an orange and green van, decorated with a stylized image of an angel blowing a valveless trumpet. Captain Caveman lives inside an artificial rock formation on the roof of the van. A wooden ladder with bones for rungs provides access to the "cave".
Voice cast
Episodes
Season 1
These episodes were originally part of Scooby's All-Star Laff-a-Lympics.
Season 2
These were the first episodes presented when the series was spun off onto its own.
Cavey's Crazy Car Caper
Cavey's Mexicali 500
Cavey's Winter Carnival Caper
Cavey's Missing Missile Miss-tery
Season 3
The Scarifying Seaweed Secret
Cavey and the Volcanic Villain
Prehistoric Panic
Cavey and the Baffling Buffalo Man
Dragonhead
Cavey and the Murky Mississippi Mystery
Old Cavey in New York
The Albino Rhino
Kentucky Cavey
Cavey Goes to College
The Haunting of Hog's Hollow
The Legend of Devil's Run
The Mystery of the Meandering Mummy
The Old Caveman and the Sea
Lights, Camera … Cavey!
DVD release
A manufacture-on-demand DVD set of Captain Caveman and the Teen Angels: The Complete Series was released by Warner Archive on July 23, 2013.
Cable reruns outside the United States
The series was never aired on Teletoon in Canada, but was aired on its sister network, Teletoon Retro.
External links
Community content is available under
CC-BY-SA
unless otherwise noted.