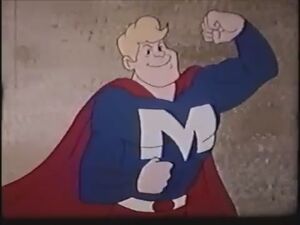 Captain Muscles is a one-time character in The Little Rascals animated series, appearing in the 11-minute segment "The Zero Hero", the series finale. He is believed to have been voiced by Phil Hartman, who would be most noted for his voice work on The Simpsons.
About Captain Muscles
Captain Muscles is the title character of a show that Darla Hood says is her favorite. He appears to be an exaggerated parody of George Reeves' portrayal of Superman. During an episode of the show Darla was watching, a couple in New York City were suffering in bitter cold temperatures, but Captain Muscles took care of the problem by moving Manhattan Island to Florida. Then, at the end of the show, Captain Muscles had drawn an entry from a drum, and Darla had apparently been chosen as the winner where she would accompany Captain Muscles on a one-time dream date.
When The Babyface Gang, a trio of dwarf bank robbers, encounter Darla and Captain Muscles, one of the robbers deflates the superhero's costume. He panics and runs away, prematurely cancelling his dream date with Darla.
Gallery
Community content is available under
CC-BY-SA
unless otherwise noted.