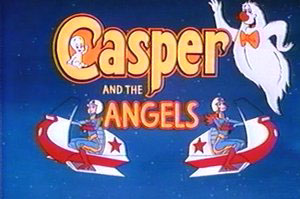 Casper and the Angels is a Saturday morning cartoon produced by Hanna-Barbera for NBC in 1979. In his first series made expressly for television, Casper the Friendly Ghost is an aide to a pair of space patrolwomen, Minnie and Maxi, in the year 2179. Casper's sidekick, Hairy Scary, is more eager to scare people than Casper is, however unlike most other ghosts, Hairy accepts the fact that Casper is a gentle ghost who does not enjoy scaring people.
It can be inferred that this series was inspired by the live-action drama series Charlie's Angels.
Voice cast
Episodes
Casper's Golden Chance
Space Circus
Casper Ghosts West
Casper's Camp Out
Strike Four
The Space Pirate
Shipwrecked
The Cat Burglar
Something Fishy
The Smiling Lisa
A Pocket Full o' Schemes
A Tale of Two Trashmen
Fatula
TV or Not TV
Gone to the Dogs
Private Eyeball to Eyeball
Champ for a Day
The Ghost Robbers
Aunt Mary Scary
The Ice Heist
A Shoplifting Experience
The Impossible Scream
Prehistoric Hi-Jinx
The Commander Is Missing
Love at First Fright
Saving Grace in Outer Space
Community content is available under
CC-BY-SA
unless otherwise noted.