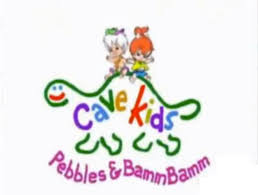 Cave Kids, also known as Cave Kid Adventures, is a 30-minute short-lived animated series and spin-off of The Flintstones starring Pebbles and Bamm-Bamm. It was produced by Hanna-Barbera for Cartoon Network and aired in 1996.
Overview
The series followed the adventures of Pebbles and Bamm-Bamm as pre-schoolers with Dino, the Flintstones' family pet, as their babysitter. Unlike the original Flintstones series and its several spin-off productions featuring the kids and their famous parents, this show focused more on educational values and lessons for children.
An earlier Cave Kids effort was published by Golden Press, both as a Little Golden Book in 1963, and as a Gold Key Comics series spanning 16 issues from 1963 through 1967.
Episodes
"Beanstalk Blues" (September 21, 1996)
"China Challenge" (September 28, 1996)
"Soap Bubble Dreams" (October 5, 1996)
"Sand Castle Surprise" (October 12, 1996)
"Kiss and Spell" (October 19, 1996)
"Of Mice and Moon" (October 26, 1996)
"Color Me Cave Kid" (November 2, 1996)
"Cave Kid Christmas" (November 9, 1996)
Voices
External links
Community content is available under
CC-BY-SA
unless otherwise noted.