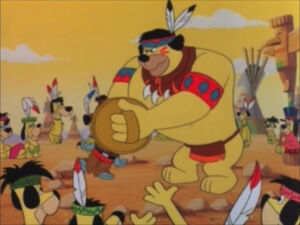 Chuckling Chipmunk is a character in The Good, the Bad, and Huckleberry Hound. He was voiced by Howard Morris.
About Chuckling Chipmunk
Earning for his name for his high-pitched voice and constant laughter (mostly for his outrageous and cruel sense of humor), Chuckling Chipmunk is a huge Native American dog tribesman that Huckleberry Hound has to overcome in the "Trail of Strength" to be accepted in the tribe and marry Desert Flower.
Huckleberry loses the match, but is allowed to marry Desert Flower after saving her life. Chuckling Chipmunk plays the organ music at their wedding, teary-eyed from the ceremony.
Gallery
Community content is available under
CC-BY-SA
unless otherwise noted.