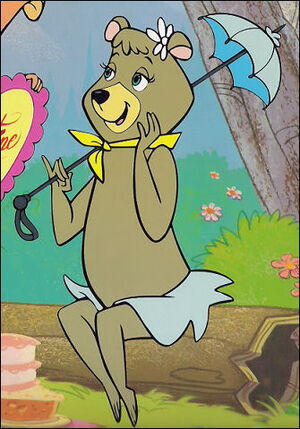 Cindy Bear is the girlfriend of Yogi Bear. She was voiced by Julie Bennett.
About Cindy
Cindy Bear originally appeared in the shorts "Acrobatty Bear", "A Wooin' Bruin", and the three-parter "Yogi's Birthday Party", where her fur was blue, but it later changed to a light gray-beige like that of Yogi (dark brown) and Boo Boo (light tan) in Hey There, It's Yogi Bear! in 1964. In this same film, Cindy sported a very light-blue tutu skirt, and a very light-yellow scarf tied about her neck. She also wore a hat in the original 1961 cartoons, and in a few of her later appearances as well. Her personality also changed from her original episodes to the movie. In the original shorts, she was very self-centered. However in the movie, when she was Yogi's love interest she was more sympathetic and had a sweeter personality, which carried on for the rest of her appearances.
She speaks with a pronounced Southern accent and carries a parasol. She has a romantic interest in Yogi.
She is a doctor in Jellystone! and has no Southern accent.[1]
Trivia
In The New Yogi Bear Show, Cindy's mother is introduced, along with Cindy's niece, Bebe the Biker. Cindy comes from a rich Southern family of bears.
In Hey, There, It's Yogi Bear, Cindy imagines the future which has them married, and they also have several kids. In the episode "Gossipy Witch" of Yogi's Gang, the witch starts a rumor about Yogi being engaged to Cindy. For promotional use, they made a image of Yogi and Cindy at their wedding.
She is the only major character not appear in the 2010 live action film.
In "Boo Boo Runs Wild", her blue fur returns.
Filmography
Television
Films and Specials
Cameo Appearances
Casting History
Quotes
"I do declare!"
"Oh, Yogi!"
"Yogi Bear loves me, he loves me not."
"Yoo-hoo!"
"Oh Shucks, sugar!"
Gallery
References