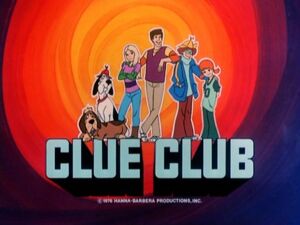 Clue Club is a Saturday-morning cartoon produced by Hanna-Barbera for CBS in 1976. It was similar in premise to Scooby-Doo, but featured two dogs: the bloodhound Woofer (Paul Winchell) and the basset hound Whimper (Jim MacGeorge). Edited reruns were shown as part of The Three Robonic Stooges under the title Woofer and Whimper: Dog Detectives.
The Clue Club appears in Jellystone!.
Summary
Four teenage detectives and two bloodhounds solved crimes in the manner of Scooby-Doo, but with more current technology. Dotty, the youngest and smartest member of the team, was always told to stay behind and analyze the clues, communicating with the others via two-way radio.
Like Scooby-Doo, Woofer and Whimper were easily scared, though Woofer claimed to be a greater detective than any human. Just when the gang was about to solve the mystery, Dotty arrived with Sheriff Bagley to contribute to the summation.
Voice Cast
Episodes
The Paper Shaper Caper
The Case of the Lighthouse Mouse
The Real Gone Gondola
Who's to Blame for the Empty Frame?
The Weird Seaweed Creature Caper
The Green Thumb Caper
The Disappearing Airport Caper
The Walking House Caper
The Solar Energy Caper
The Vanishing Train Caper
The Dissolving Statue Caper
The Missing Pig Caper
One of Our Elephants Is Missing
The Amazing Heist
The Circus Caper
The Prehistoric Monster Caper
DVD Release
On 11 August 2015, Warner Archive released a two-disc DVD set of Clue Club: The Complete Animated Series.
External Links