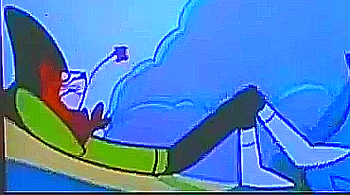 Country is the Cattanooga Cats' lead singer/guitarist. He was voiced by William Callaway, with singing voice by Michael Lloyd.
About Country
He's the tallest of the troupe, and is romantically linked with Kitty Jo.
Country wears a forest-green Hillbilly-type hat, purple ascot, chartreuse sweater and grayish-green vest, jeans and white boots. He also has an overhanging buck tooth from his upper lip, best noticed when his mouth is shut (such as in some of the music videos).
Gallery
Community content is available under
CC-BY-SA
unless otherwise noted.