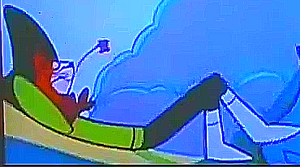 Country is a character in Cattanooga Cats. He was voiced by William Callaway, with singing voice by Michael Lloyd.
About Country
He's the Cats' lead singer and guitarist, the tallest and thinnest of the troupe, and is romantically linked with Kitty Jo in many of the music videos, including singng a duet with her in the song "I Never Knew". He shared a kiss with her in the "Listen to the Sound" and "Mother, May I?" videos.
Country has bright orange fur with a large white patch around the mouth, nose, and chin. He wears a large, deep forest-green Hillbilly-type hat which he's rarely without, a dark purple ascot, a chartreuse long-sleeved shirt, grayish-green pants, and white knee-high boots. He has only appeared twice without his hat, once in the "Listen to the Sound" music video and once in the episode "Ghosting A-Go-Go", revealing that his ears are small and close together with white inside them,. He also has the longest whiskers of the Cats.
He has a small protruding upper fang that isn't visible when he sings.
Animatronic versions of him and the other Cattanooga Cats appear in Jellystone!
Gallery