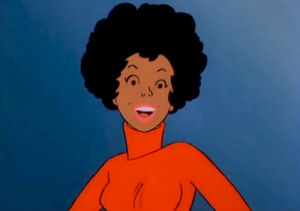 Dee Dee Skyes is a character in Captain Caveman and the Teen Angels. She was voiced by Vernee Watson-Johnson. Kiersey Clemons voiced Dee Dee Skyes in the 2020 CGI Animated film Scoob! and Nicolle Thurman voices Dee Dee in Jellystone![1]
About Dee Dee
She is an associate of Captain Caveman, one of the Teen Angels who found him frozen in a block of ice and thawed him out. Like Valerie Brown in Josie and the Pussy Cats, Dee Dee is the smartest and most serious member of the trio and Brenda's best friend.
She is a young, attractive African American woman with a black afro. She wears a red turtle-neck, blue skirt and red boots. In Scoob!, she wears a red, white, silver, and blue latex jumpsuit and her hair is tied in a bun.
She is the brainy one, which means she is most likely to solve the mysteries, making her the Velma Dinkley of the group. She also is very observant and is best friends with Brenda.
In Scoob!, she is Blue Falcon's assistant in the mission to protect Scooby-Doo and Shaggy Rogers from Dick Dastardly, who wants Scooby for his own nefarious scheme. She is the only one of the Teen Angels to appear in the film.
In Jellystone!, she holds multiple jobs and her hairstyle is more akin to her Scoob! design.
Gallery
References