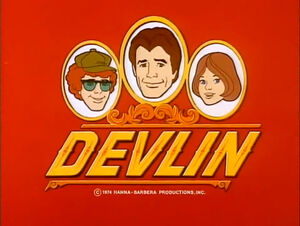 Devlin is an animated television series produced by Hanna-Barbera for ABC in 1974. The series was inspired by the huge Evel Knievel and featured a stunt motorcyclist Ernie Devlin and his siblings, Tod and Sandy. It was one of Hanna-Barbera's very few dramatic series.
Voice Cast
Episodes
Victory over Fear
Hero Worshipper
Save That Lion
Tod's Triumph
Up, Up and Away
The Challenge
Sandy's Choice
Sandy's Idol
The Big Blast
Innocent or Guilty
Like Father, Like Son
Jester's Secret
The Stowaway
Sandy's Turn
Sandy's Decision
Dad's Friend
DVD release
On 25 April 2016, VideoETA announced that Warner Archive would release Devlin: The Complete Series 24 May as a manufacture-on-demand title in the Hanna-Barbera Classics Collection.
Gallery