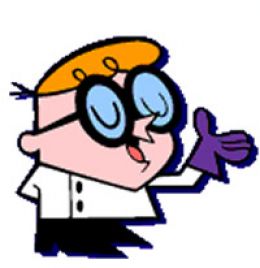 Dexter's Laboratory (commonly abbreviated as Dexter's Lab) is an American animated series created by Genndy Tartakovsky and produced by Cartoon Network Studios (also co-produced with Hanna-Barbera in 1996-2001). The show is about a boy named Dexter who has an enormous secret laboratory filled with an endless collection of his inventions. The series premiered in the United States on Cartoon Network on April 28, 1996 and ended on November 20, 2003. As of 2006, Cartoon Network's sister channel Boomerang reruns the show. The show returned to Cartoon Network in reruns on November 8, 2010.
The series initially debuted on The Cartoon Cartoon Show as a cartoon short. Each twenty-two minute episode consists of two to three segments (with the exception of the series finale). Dexter's Laboratory originally ended in 1998, but it was later revived for a movie as well as two more seasons.
Dexter's Laboratory is notable for helping launch the careers of several cartoon creators such as Craig McCracken (The Powerpuff Girls, Foster's Home for Imaginary Friends and Wander Over Yonder), Seth MacFarlane (Family Guy, American Dad! and The Cleveland Show), Butch Hartman (The Fairly OddParents, Danny Phantom and T.U.F.F. Puppy) and Rob Renzetti (My Life as a Teenage Robot).