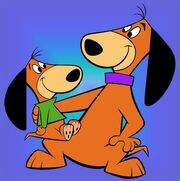 Doggie Daddy is the father of Augie Doggie on The Quick Draw McGraw Show. His voice is based on that of the comedian Jimmy Durante.
In Jellystone!, Doggie Daddy is voiced by C.H. Greenblatt.[1] He is more of an overprotective parent in this series.[2]
About Doggie Daddy
Doggie Daddy always tries to do the best he can at raising his rambunctious son Augie. Their mutual admiration included Daddy gently chiding, "Augie, my son, my son", when he would disappoint his father; and when his son would say or do something that inspired pride, Daddy would turn to the audience and say (with a grin), "Dat's my boy who said dat!"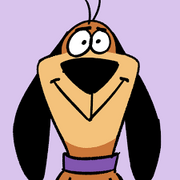 Gallery
References
↑
https://www.animationmagazine.net/streaming/trailer-hanna-barbera-favorites-return-in-hbo-max-original-jellystone/