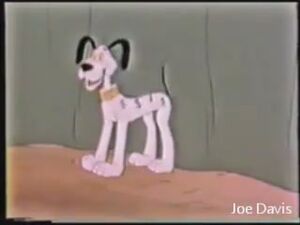 Dollar is the pet dog of Richie Rich, in both the Harvey Comics series of publications and the Hanna-Barbera animated series. He was voiced by Frank Welker.
About Dollar
Richie refers to him as a "Dollarmatian", which is a fictional variation of a dalmatian, in that his fur has dollar signs instead of spots. Dollar always accompanies Richie everywhere he goes, whether Richie tries to foil a crime, or goes on a rescue mission.
In all media versions, Dollar is obsessed with food, in the same manner as Scooby-Doo. In the animated series, he sometimes imagines himself performing some heroic feat, but fails when he actually tries it. It can be inferred that Dollar attempts these feats just to show off.
Trivia
Aside from Richie, Dollar is the only other character who appears in all of the Riches and Zillion Dollar Adventures segments. He appears in most of the Treasure Chest segments, many of which he is the central character, but rarely appears in Gems segments.