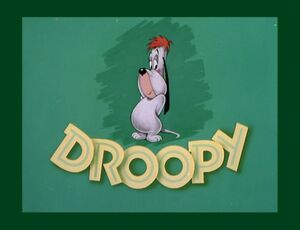 Droopy is a dog character with a deadpan voice. He was created by Tex Avery and Michael Lah for MGM. William Hanna and Joseph Barbera produced seven theatrical cartoons with the character, starting with "Grin and Share It" (1957) and ending with "Droopy Leprechaun" (1958).
Hanna-Barbera used Droopy in Tom & Jerry Kids Show and its spinoff, Droopy, Master Detective.
About Droopy
He has a best friend who is a wolf and a son named Dripple. His catchphrases include "Hello, all you happy people," and "You know what? That makes me mad!"
In the cartoon "Northwest Hounded Police" Droopy's last name was given as "McPoodle". In "The Chump Champ", it was given as "Poodle". Nevertheless, Droopy is generally understood to be a basset hound.