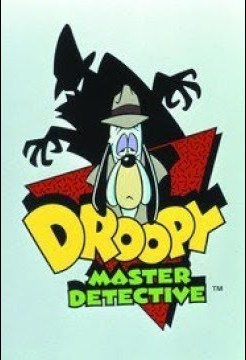 Droopy, Master Detective is an animated series spun off from Tom & Jerry Kids Show. Hanna-Barbera produced it for Fox in 1993.
Plot
Tex Avery's Droopy, a staple of MGM cartoon comedy since 1943, headlines this series spoofing police shows and film noir detective dramas. Droopy and his son, Dripple, are 1940s-style private detectives in an unnamed city.
Screwball Squirrel, another Avery creation, starred in supporting segments. Living in a public park, the squirrel tormented the park attendant Dweeble and his dimwitted dog, Grappley.
Voice cast
Episodes
Apart from episodes 11 and 13, each episode started and ended with a Droopy installment.
Droopy's Deep Sea Mystery / How Can We Miss You if You Won't Go Away? / Droopy and the Case of the Missing Dragon
The Babyman Bank Heists / Dweeble's Night Out / The Deep Space Chase
Round 'Em Up Bub / A Screwball Romance / The Case of the Snooty Star
The Monster Mob / Everybody Out / Sherlock Droopy
Queen of the Mutant Weirdo Vampires / Screwball Snowballs / Shadowman and the Blue Pigeon
Dueling Detectives / Squirrelicus Obnoxiousness / Sherlock Droopy Gets Hounded
Droopy and the Cyberdolts / Pickax Max / Hey! Where's Arnold?
Auntie Snoople / Demolition Disorder / Mushu McWolf
Return of the Yolker / A Chip Off The Old Blockhead / Mighty McWolf
Sheep Thrills / Screwball Out West / The Maltese Fossil
Deep Swamp Droopy / Dog Breath Dweeble / Hogs Wild
The Case of Pierre le Poulet / Commotion on the Ocean / Alligator Droopy
Primeval Prey / Dweeble's Worst Nightmare / Battle of the Super Squirrels
External links