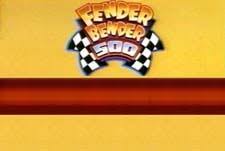 Fender Bender 500 is one of the animated segments in Wake, Rattle & Roll. It was a revival of Wacky Races, with Shadoe Stevens as the announcer. The competitors were:
Numbers 8–12 were not assigned to any vehicle in the race.
Aside from the obvious differences in this series, the shorter time format and the use of Hanna-Barbera's character library, there were a few key differences between this show and Wacky Races. There was a variety of running gags, the first one involving a rather nervous and non-speaking starter, who always was run over by the racers, or had a similar misfortune, every time he shot the starter pistol. Each race also featured what sounded like an especially luxurious prize, such as a hundred gold doubloons, or a thousand French Francs, only to have the prize turn into a silly facsimile such as a hundred gold BALLOONS or a thousand French hot dogs. Breaking the tradition of Wacky Races, Dick Dastardly and Muttley occasionally did win a Fender Bender race, only for Dastardly to get disappointed by the absurdness of the prize.
Voice Cast
Episodes
The Nippon Tuck 500: Takes place in Japan, won by Top Cat and Choo Choo
The Cow Sow & Plow 500: Takes place in a generic rural area of the United States, won by Augie Doggie and Doggie Daddy
The Calypso 500: Takes place on an island off Spain, won by Augie Doggie and Doggie Daddy
The Philly Freedom 500: Takes place in Philadelphia, won by Pixie and Dixie
The Hup, Two, Three, Four 500: Takes place on a U.S. military course, won by Top Cat and Choo Choo
The Frances a Lot 500: Takes place in France, won by Yogi Bear and Boo Boo
The Wooden Shoe Like to Win 500: Takes place in the Netherlands, won by Quick Draw McGraw and Baba Looey
The Rocket Gibraltar 500: Takes place on the island of Gibraltar, won by Huckleberry Hound and Snagglepuss
The Bombay Flambe 500: Takes place in India, won by Winsome Witch and Lucky
The Way Down Under 500: Takes place in Australia, won by Augie Doggie and Doggie Daddy
Fondue 500: Location unknown, winner unknown
The Kenya Win It 500: Takes place in Kenya, won by Augie Doggie and Doggie Daddy
The Fettuccini 500: Takes place in Italy, won by Top Cat and Choo Choo
Monumental 500: Takes place in Washington, D.C., won by Huckleberry Hound and Snagglepuss
The High Stakes 500: Race goes from Hoover Dam to Las Vegas, won by Quick Draw McGraw and Baba Looey
The Great Golden Gate 500: Takes place in San Francisco, won by Top Cat and Choo-Choo
The Highland Fling 500: Takes place in Scotland, won by Winsome Witch and Lucky
Rush to Rushmore 500: Takes place at Mount Rushmore, won by Yogi Bear and Boo Boo
Pound for Pound 500: Takes place in London, won by Huckleberry Hound and Snagglepuss
The Great Greek 500: Takes place in Greece, won by Quick Draw McGraw and Baba Looey
The Log Jammer 500: Takes place in Oregon, won by Yogi Bear and Boo Boo
The Clambake 500: Takes place on New England, won by Yogi Bear and Boo Boo
We'll Get Bayou 500: Takes place in Louisiana bayou, won by Wally Gator and Magilla Gorilla
The Funhouse 500: Takes place at an amusement park, winner unknown
Space Race 500: Takes place in Cape Canaveral, won by Yogi Bear and Boo Boo
The Wicki Wacki 500: Takes place in Hawaii, won by Winsome Witch and Lucky
Big Apple 500: Takes place in New York, won by Huckleberry Hound and Snagglepuss
The Panda-Monium 500: Takes place in China, won by Pixie and Dixie
The Tumbleweed 500: Takes place in Texas, won by Quick Draw McGraw and Baba Looey
The Jungle Bungle 500: Takes place in the Amazon Rainforest, won by Quick Draw McGraw and Baba Looey
Silver Screen 500: Takes place in Los Angeles, won by Huckleberry Hound and Snagglepuss
Sheik to Sheik 500: Takes place in Saudi Arabia, won by Huckleberry Hound and Snagglepuss
The Cotton Pickin 500: Takes place in the southeastern United States, won by Wally Gator and Magilla Gorilla
The Oom-pa-pah 500: Takes place in Germany, won by Pixie and Dixie
The Fountain of Youth 500: Takes place in Florida, won by Augie Doggie and Doggie Daddy
The Fiesta Fantastica 500: Takes place in Mexico, won by Quick Draw McGraw and Baba Looey
The Big Top 500: Takes place at a circus, won by Top Cat and Choo Choo
The Russian Around 500: Takes place in Russia, won by Dick Dastardly and Muttley
The Dash to Nashville 500: Takes place in Tennessee, won by Winsome Witch and Lucky
The Trans-Transylvania 500: Takes place in Romania, won by Winsome Witch and Lucky
The Run Down to Ghost Town 500
The Go for the Gold 500: Takes place in California, winner unknown
The Golden State 500: Takes place in California, won by Top Cat and Choo Choo
The Hit'n Mississippi 500: Takes place on the Mississippi River, won by Magilla Gorilla and Wally Gator
The Alligator Alley 500: won by Wally Gator and Magilla Gorilla
The Brazilian Million 500: Takes place in Brazil, won by Top Cat and Choo-Choo
The Emerald Isle 500: Takes place in Ireland, won by Huckleberry Hound and Snagglepuss
The Nile a Minute 500: Takes place in Egypt, won by Winsome Witch and Lucky
Unfathomable 500: Takes place on the ocean floor, won by Yogi Bear and Boo Boo
The Yukon Win It 500: Takes place in the Yukon Territory of Canada, won by Augie Doggie and Doggie Daddy