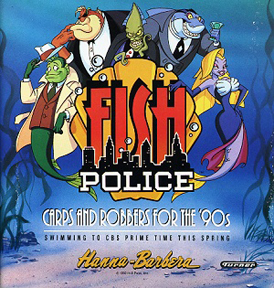 Fish Police is a prime-time animated series produced in 1992 by Hanna-Barbera for CBS. The series is based on a comic book in which all the characters are humanized fish. Six episodes were produced, but only three were broadcast.
Premise
Fish Police, which was originally a comic book series by cartoonist Steven Moncuse, centered on law and crime in a fictional underwater metropolis. The hero, Inspector Gill, tries to solve various crimes, many of which are related to the Mafia and other criminal organizations, and avoid seduction by the extremely well-endowed Angel. The comic and the television show featured several sorts of marine species as its characters, while the plots and dialogue were reminiscent of film noir.
Voice cast
Episodes
"The Shell Game"
"A Fish Out of Water"
"Beauty's Only Fin Deep"
"The Codfather"
"The Two Gils"
"No Way to Treat a Fillet-dy!"
External links
Community content is available under
CC-BY-SA
unless otherwise noted.