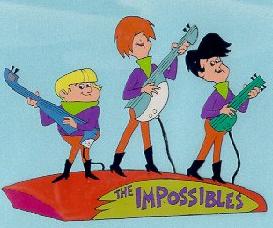 Frankenstein Jr. and the Impossibles is an animated television show, produced by Hanna-Barbera for CBS in 1966. Each half-hour consisted of one Frankenstein Jr. story and two with the Impossibles. It ran for two seasons before complaints about violence in children's television led to the series' cancellation.
Overview
Frankenstein Jr.
Frankenstein Jr. is a giant flying humanoid robot. He and his young master, Buzz Conroy, battle monsters and confront mad scientists. Buzz and Frankenstein Jr. later made a cameo appearance in an episode of Yogi's Space Race.
The Impossibles
The Impossibles are a trio of rock 'n' roll guitarists who are secretly superheroes. Coil Man has springs for arms and legs, Fluid Man can change his body into water, and Multi Man can duplicate himself as many times as needed. Their powers were later given to three of the Super Globetrotters.
Voice cast
Episodes
Frankenstein Jr.
The Shocking Electrical Monster
The Spyder Man
Menace from the Wax Museum
Alien Brain from Outer Space
The Unknown Shock
UFO: Unidentified Fiendish Object
Unearthly Plant Creatures
The Deadly Living Images
Colossal Junk Monster
The Incredible Aqua-Monsters
Gigantic Ghastly Genie
The Birdman
Invasion of the Robot Creatures
The Manchurian Menace
The Mad Monster Maker
The Monstermobile
Pilfering Putty Monster
The Spooktaculars
The Impossibles
The Spinner / The Perilous Paper Doll
Beamatron / The Bubbler
The Burrower / Timeatron
Smogula / The Sinister Speck
Mother Gruesome / Fero, the Fiendish Fiddler
The Diabolical Dauber / Televisatron
The Wretched Professor Stretch / Aquator
The Devilish Dragster / The Return of the Spinner
Satanic Surfer / The Puzzler
The Scurrilous Sculptor / The Scheming Spraysol
The Artful Archer / The Insidious Inflator
The Dastardly Diamond Dazzler / The Return of the Perilous Paperman
Cornella Critch the Tricky Witch / The Terrible Twister
Professor Stretch Bounces Back / The Terrifying Tapper
The Anxious Angler / The Rascally Ringmaster
Billy the Kidder / The Fiendish Doctor Futuro
The Crafty Clutcher / The Infamous Mr. Instant
The Bizarre Batter / The Not So Nice Mr. Ice
DVD release
On April 26, 2011, Warner Archive released Frankenstein Jr. and the Impossibles: The Complete Series on DVD in region 1 as part of their Hanna–Barbera Classics Collection. This is a Manufacture-on-Demand (MOD) release, available exclusively through Warner's online store and Amazon.com.
External links
Community content is available under
CC-BY-SA
unless otherwise noted.