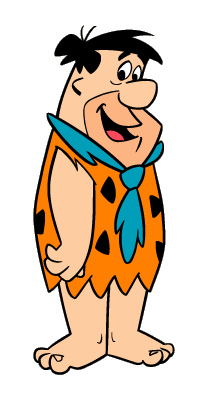 Frederick "Fred" Flintstone is the main character of the animated sitcom The Flintstones, which aired during prime-time on ABC during the original series' run from 1960 to 1966.
About Fred
Fred is the husband of Wilma Flintstone and father of Pebbles Flintstone. His best friends are his next door neighbors, Barney and Betty Rubble, who have an adopted son named Bamm-Bamm.
Fred lives in the fictional prehistoric town of Bedrock, a world where dinosaurs coexist with modernized cavepeople and the cavepeople enjoy "primitive" versions of modern conveniences such as telephones, automobiles, and washing machines. Fred's trademark yell is "Yabba dabba doo!" This phrase was originally his club's cheer; later a phrase adopted as part of the theme song from the third series on and used in the 1994 live-action Flintstones movie.
Fred tends to be sometimes loud-mouthed, aggressive, and constantly scheming ways to improve his family's working class lot in life, often with unintended results.
Fred loses his temper easily and is very impatient, but he seems free of malice and never holds a grudge. Although his loudness irritates the people around him, Fred proves friendly, often going out of his way to help others. Also, although Fred often annoys Wilma with his immaturity, he is known to go to great lengths to please his family and apologize when he goes too far.
In the video games, Fred also demonstrates his bravery when he fought off his enemies using his club.
Filmography
Television
Films and Specials
Guest Appearances
Casting History
Gallery
Community content is available under
CC-BY-SA
unless otherwise noted.