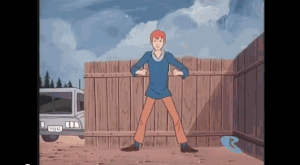 Fred and Barney Meet the Thing was an hour-long omnibus show on NBC in 1979–80. Contrary to the show's title, Fred Flintstone and Barney Rubble did not actually meet the Thing, except in short bumper sketches. Later, the Shmoo was added to the ensemble.
The first half of the program was a rerun from The New Fred and Barney Show. The second half featured a teenage version of Benjamin Grimm alias the Thing from The Fantastic Four. This version of the Thing was not a permanently mutated adult, but a nerdy high school student who joined his rings together while intoning, "Thing ring, do your thing!"
Voice Cast from The Thing
Episodes of The Thing
The Picnic Panic
Bigfoot Meets the Thing
Junkyard Hijinks
Gone Away Gulch
Circus Stampede
The Thing and the Queen
Carnival Caper
The Thing Blanks Out
The Thing Meets the Clunk
Beach Party Crashers
Decepto the Great
The Thing's the Play
Double Trouble for the Thing
To Thing or Not to Thing
The Big Bike Race
The Thing and the Treasure Hunt
Out to Launch
The Day the Ring Didn't Do a Thing
A Hot Air Affair at the Fair
The Thing Goes to the Dogs
The Thing Goes Camping
Dude Ranch Rodeo
Photo Finish
The Thing and the Captain's Ghost
The Thing and the Absent-Minded Professor
External Links
Community content is available under
CC-BY-SA
unless otherwise noted.