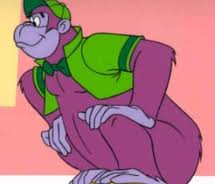 Grape Ape is a Hanna-Barbera character. He was voiced by Bob Holt.
About Grape Ape
He is a forty-foot-tall purple gorilla. His catch phrase is saying his name twice ("Grape Ape, Grape Ape") after anything anyone says, usually as a form of agreement or acknowledgement of what was said.
His best friend is a dog named Beegle Beagle (voiced by Marty Ingels). On Scooby's All-Star Laff-a-Lympics, Grape Ape was a member of Yogi Bear's team, the Yogi Yahooeys. His "birthday" is May 19.
He appears in Jellystone! in where he is portrayed as a kaiju.
Trivia
Grape Ape makes a cameo appearance in the 2012 MetLife "Everyone" commercial.
Grape Ape makes a cameo appearance during the end credits of the film Scoob! were he is shown to be a part of Blue Falcon's Falcon Force team.
Gallery