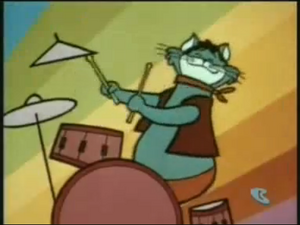 Groovy Groove is a character in Cattanooga Cats. He was voiced by Casey Kasem.
About Groove
He is the drummer for the band who almost always speaks in rhyme. He also has a clever way of speaking to animals, and they seem to understand him perfectly. He and Kitty Jo are the only two members of the group who don't wear hats. He and Scoots are the only cats who don't wear shoes. He sometimes makes funny faces and sticks his tongue out of his mouth while keeping his eyes closed when playing his drums.
He has a bluish-green face and body with a tuft of black hair on the top of his head, white fur on the inside of his ears and the lower part of his face, and long whiskers. He wears a deep orange ascot, a short reddish-brown vest, and short light orange stretch pants with a small maroon belt.
Animatronic versions of him and the other Cattanooga Cats appear in Jellystone!