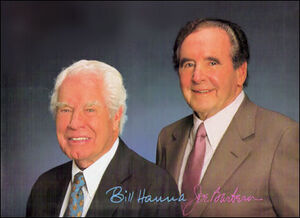 Hanna-Barbera Productions (sometimes simply known as Hanna-Barbera, or H-B) is the term for the company founded by Bill Hanna and Joe Barbera. Their partnership began in the 1940s while directing Tom and Jerry theatrical shorts for MGM. In 1957, when MGM's animated theatrical shorts division disbanded, Hanna and Barbera formed their own television animation studio. The company's output was extremely popular for over 30 years, and heavily influenced the style of animated TV series broadcasted by other animation companies.
Shortly thereafter, changing tastes in animation, coupled with the lack of involvement of the two creators, caused Hanna-Barbera to close up shop and be replaced by Cartoon Network Studios. (Some Cartoon Network shows, such as Dexter's Laboratory, Powerpuff Girls, and Space Ghost: Coast to Coast started under the H-B banner but moved over to the CN banner.) While some shows (such as Scooby-Doo) use the H-B logo and some modern installments of the original series. they are in fact produced by Warner Bros. Television Animation. However, Hanna-Barbera's name continues to be used in branding on some productions and on merchandise for its familiar characters.
H-B drew criticism for its use of limited animation for TV budgets. However, millions of people were entertained by their animated cartoons and retain fond memories of the characters and situations to this day. The duo were also responsible for launching and/or sustaining the careers of many notable voice actors including Daws Butler, Don Messick and Mel Blanc.
The studio was absorbed into Warner Bros. Animation in 2001.
Filmography
1950s
1960s
1970s
1980s
1990s
2000s
(Programs marked with an asterisk (*) continued production under Cartoon Network Studios after the absorption of Hanna-Barbera into Warner Bros. Animation.)