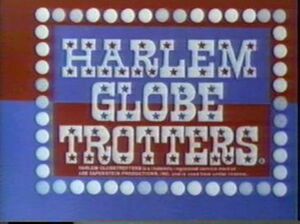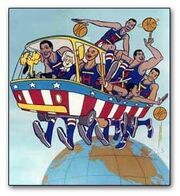 Harlem Globetrotters was Hanna-Barbera's first animated series to feature the slapstick basketball troupe, a co-production with CBS from 1970 to 1972. It was also the first animated TV series to have a primarily black cast, and one of the few animated series that CBS produced in-house. The Globetrotters' coach, Granny, and their canine mascot, Dribbles, did not appear in crossovers to The New Scooby-Doo Movies, though Granny was mentioned in one.
Twenty-two episodes of Harlem Globetrotters were produced: sixteen for the first season, and six more for the second season. The show was later rerun on NBC as the headline segment of Go Go Globetrotters, a Saturday morning block which also included reruns of CB Bears, Space Ghost, and The Herculoids.
Voice Cast
Episodes
Pardon My Magic

Granny's Royal Ruckus

Jungle Jitters
End Credits Stills
Production Goofs
Continuity error: In "The Great Geese Goof-Up", near the end of the basketball game, the City All-Stars' score has mysteriously dropped from 44 points to 10 points.
See Also
External Links