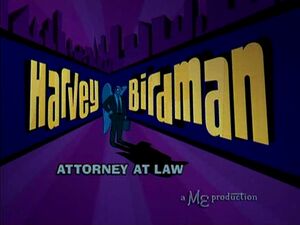 Harvey Birdman Attorney at Law is an American animated television series that aired in the nighttime Adult Swim block of the channel Cartoon Network from 2000 to 2007.
The show is one of four spin-offs of Space Ghost Coast to Coast and follows the adventures of fictitious law firm Sebben and Sebben, staffed by superheroes and other cartoon characters of the 1960s created by Hanna-Barbera.
The series was followed by a 2018 special Harvey Birdman Attorney General and a spinoff series Birdgirl which started airing in 2021
In each episode of the show appeared many characters of Hanna-Barbera.
Visual Mentions
| Picture | Episode | Description |
| --- | --- | --- |
| | "Bannon Custody Battle" | In the episode Bannon Custody Battle, Dr. Quest sues "Race" Bannon, because of an assignment with his children. Also, Mighty Mightor appears in the episode as a judge. |
| | "Very Personal Injury" | In the episode Very Personal Injury, Apache Chief sues a cafe Javalux due to the fact that he spilled coffee on himself and ceased to grow in size. Black Vulcan also appears in the episode. Also appearing are Wonder Woman and the Wonder Twins, while Aquaman and Superman are just mentioned. |
| | "Shaggy Busted" | In the episode Shaggy Busted, Shaggy and Scooby were summoned to court for misbehavior and allegedly smoking drugs. Fred, Daphne, Velma and Scrappy also appeared in the episode. In prison, you can see the Jetsons family (everyone, except Elroy), Magilla Gorilla, as well as four villains from Scooby-Doo. Mighty Mightor appears as a judge for the third time. |
| | "Death by Chocolate" | In an episode Death by Chocolate, Yogi Bear reported to police that his friend Boo Boo sends booby-trapped boxes of chocolates and bouquets. Ranger Smith appears in the episode, but only in pictures, and not alive. Also, Dick Dastardly was sitting among the jurors. This episode was the first appearance of Phil Ken Sebben. Mighty Mightor appears again as a judge, the last time in the season. |
| | "Shoyu Weenie" | In the episode Shoyu Weenie, an overworked Japanese rock band learns that their number one hit has been plagiarized by an American band called The Neptunes. Mr. Chan and all of his gang appear in the episode; Jabberjaw, Bubbles, Biff, Shelly and Clamhead (members of Neptunes). Dr. Quinn Darien from Godzilla also appears in the episode as Dr. Gale Melody. |
| | "The Dabba Don" | In the episode The Dabba Don, Fred Flintstone is accused that he was the boss of the mafia. Subsequently, it turns out that he imagines himself to be due to a concussion to the head from a bowling ball. Hereby mafia boss is Barney. Wilma, Dino, Pebbles, and Mr. Slate also appear in the episode. Birdman wakes up three times in the episode and sees in his bed the heads of cartoon characters, namely; Quick Draw McGraw, Jabberjaw and Gloop (or Gleep). The Ant Hill Mob appears in the episode, and Captain Caveman with Thundarr the Barbarian sit in a bar. Mighty Mightor appears again, but he was killed by the mafia. |
| | "Deadomutt, Part 1" | In the episode Deadomutt, Part 1, Phil Ken Sebben hires a new employee, Azul Falcone, along with his friend, Dynomutt. Phil just makes Azul his partner and Harvey does not like it; he notices all the work Azul gives Dynomutt. Reducto advises Harvey to kill the dog, and after a while Phil finds Harvey crying near the printer with parts of Dynomutt strewn about and reports to the police that Harvey killed Dynomutt. Peter Potamus appears in the episode three times, first among the crowd of company employees (as well as a glowing skull from Scooby-Doo), and then goes out of the toilet, throwing a coin to Harvey, and finally having sex with a woman in his office. |
| | "Deadomutt, Part 2" | In the episode Deadomutt, Part 2, Harvey is put in jail for a murder he did not commit. The printer had a paper jam, and Dynomutt tried to pull fix it only to get stuck himself. Harvey is in jail for five years, and when they wanted to electrocute him, it turns out that it was a hoax, and Dynomutt was alive. Peter Potamus appears in the episode, but among the jurors. Also, in the court, we can see the Lizard Men. In prison, Harvey married Magilla Gorilla, and at a party in the end we can also see him. Injun from Jonny Quest appears twice in the episode; he is present at the meeting of the company Freezoid and leads Harvey to the electric chair. Also, Tinker can be seen in the episode. |
| | "X, the Exterminator" | In the episode X, the Exterminator, Exterminator recalls the murder of Birdman and again tries to steal his coat. Meanwhile, Phil is pushing Rights and Harvey must defend him, and the whole time cannot go to the toilet. Peter Potamus appears in the episode twice, first washing his hands in the toilet, and then again having sex with a woman behind the wall that penetrates X. Black Vulcan appears in the episode twice: first, he sits in court, saying "Healing rays of the sun in his pants", and then he appears at the end of the episode, laughing along with the other characters. Also Doctor Doom is seen sitting in the courtroom. |
| | "Blackwatch Plaid" | This episode was a parody of old cartoons, where content and scenes are taken from the previous series. This episode contained footage of all the episodes of the first season (except Bannon Custody Battle), and one scene from the episode "SPF" of the second season. The plot is as follows: Phil Ken Sebben believes that someone is stealing things from his office and installs hidden cameras everywhere, and yet people sue the Secret Squirrel, for the fact that he was publicly exposed, opening his cloak to get devices. In the episode many Hanna-Barbera characters appear. Peter Potamus and the glowing skull appear again in the crowd several times. Also in one of the videos we can see Morocco Mole. In the records there Phil Boo Boo see a flopping Harvey going in the bath as well as Gloop (or Gleep) entering the female toilet. Also in the courtroom, Dr. Doom and Black Vulcan are present in the final scene, when everyone is laughing. Also in this episode Exterminator appears the second time. |
| | "Trio's Company" | In the episode Trio's Company, you can see all the members of the Galactic trio, though under different names; Gravity Girl (as GiGi), Vapor Man (as Vince), and Meteor Man (as Terry). Also, Inch High Private Eye sues the boss of his company, Mr. Finkerton for dismissal due to growth and discrimination. Barney Rubble appears in the episode twice; jumping out of the land, but also in the crowd of GiGi lovers. Fred Jones also stands among them. Peter Potamus appears as one of the Gigi lovers kissing her after Phil and then asking if she got the ring, which he sent. Black Vulcan appears in the episode as a priest. |
| | "The Devlin Made Me Do It" | In the episode The Devlin Made Me Do It, Bobby Boy is imitating a trick of Ernie Devlin and falls into a ditch and break his little body. He sues Devlin in court. In the episode, you can also see the assistants of Devlin, Tod and Sandy. At that time, Harvey thought that Avenger was a woman, since it sitting on an egg, but then it turns out that this egg, which was really Peter Potamus, hid under the bird for safety. Jane Jetson appears in the episode as one of the indecent photos of Peter. The Hair Bear sits in the jury room, as well as Peter Potamus. Also at one point there Hiram Mightor sitting in a pool with a circle in the form of Wally Gator. |
| | "High Speed Buggy Chase" | In the episode High Speed Buggy Chase, Avenger flies away from Harvey Birdman, and Buggy is fined for high speed driving. Also in the episode Tinker, Debbie and Mark appear, as well as Funky Phantom and Boo who appears early in the episode in order to write a will after their deaths, as well as sit in court. Also, Bandit and Scrappy-Doo lie in the box of Avenger and Peter Potamus is present at his farewell party. |
| | "SPF" | In the episode SPF, Ding-a-Ling sues Mr. Twiddles for stealing his domain www.dingaling.biz for a porn site. Also domains were stolen from; Hi-riser, Big Duke & Bigger Duke, Kwicky Koala, Schnooker, The Magic Rabbit, Fluid Man, Dirty Dawg, Mother Load, and Galtar... and his Golden Lance. They all appeared in the episode. Also, Magilla Gorilla appears three times in the episode. Harvey wants to earn money and becomes a prostitute, and among his "colleagues" can be seen Magilla Gorilla. Also, Peter Potamus appears in the episode four times, taking the place of Harvey, sharpening rubber doll, pulling indecent pictures and eating a coconut. Also, Magilla Gorilla and Kwicky Koala appears in the episode as pictures. |
| | "Back to the Present" | In the episode Back to the Present, the Jetsons sue the planet Earth for destruction of the environment. Minor Jetsons characters appear in the episode as mutants. Orbity is called to the episode as a result of genetic modification of corn. Peter Potamus appears in the episode asking whether Birdman got his thing, and what numbers would win today. Boo Boo appears in the episode, and Phil thinks that he is an alien. Apache Chief appears in the episode crying that Harvey threw food. Also in the final scene of the flood Jabberjaw appears. |
| | "Grape Juiced" | In the episode Grape Juiced, Grape Ape is involved in the Olympics but people want to take away the medal for the use of steroids. Beegle Beagle appears in the episode as his coach. Gravity Girl appears in the episode as GiGi and she is pregnant. At first she said that the father was Harvey but later it turns out to Grape Ape. Boo Boo, Peter Potamus and Devlin's wife appear at a party in honor of the GiGi's child. Yakky Doodle, Gleek and Gloop(or Gleep) appear in the episode as friends of Grape Ape, also inflated pneumatic steroids. Two Indians from Johnny Quest appear in the episode as well. |
| | "Peanut Puberty" | In the episode Peanut Puberty, Peanut begins experiencing puberty and Harvey tries to explain to him what was happening to him. To aid him he asks Apache Chief, Batman and Black Vulcan. Also at Doggie Daddy sued for being bitten by someone and Phil begins to train him. Also at the beginning of the episode, during the meeting Zok, Snagglepuss, Hokey Wolf, Sneezly, Dino, Peter Potamus and Azul Falcone appear. When Black Vulcan speaks with Peanut, in the background can be seen Dr. Benton Quest and Race Bannon playing football. Also Mentok reads the newspaper, which depicted Jabberjaw. Peter Potamus and Azul Falcone appear in episode two more times. |
| | "Gone Efficien...t" | In the episode Gone Efficien...t, the office Sebben and Sebben decide to become more efficient, and Yakky Doodle wants to change the name. Squiddly Diddly appears in court as a witness and a bearer of a stupid name. Reducto says that his name is a symbol of copulation. Fred Flintstone appeared in the beginning of the episode as one of the builders. Inch High, Private Eye can be seen naked and pierced by a stick from olives. Azul Falcone can also be seen among the people in the queue. Also, Peter Potamus appears in the episode several times as an employee of the company. |
| | "Droopy Botox" | In the episode Droopy Botox, Droopy Dog sues a plastic surgery company that injected too much botox into him, but Harvey defends the doctor and wins the case. The surgery case gives him a lot of money, but he is sorry for the dog. Doggie Daddy also appears in the episode, coached by Phil, and he was again able to speak. Cindy Bear and Bubbles appear in the queue among the other people. In the book of plastic surgery you can see photos of a modified Huckleberry Hound and Mr. Twiddle. Also among the angry crowd, beating Azul Falcone you can see Jane Jetson. You can see Baba Looey as a postman of Exterminator and Peter Potamus appears in the episode twice, the second time as a man. Doggie Daddy also is showng having an operation for sex change; he made the operation to change the race. |
| | "Guitar Control" | In the episode Guitar Control, Quick Draw McGraw sues for possession of a guitar. The Dalton Gang also appears in the episode, and Baba Looey, who kills by Peanut. At the beginning of the episode, a lot of people are shown riding in cars, and among them, you can see Elroy Jetson and Peter Potamus. Also, Peter Potamus appears alongside the jury in court, sniffing his hand. Even in the court among the founding fathers sits The Funky Phantom. Also, when Mentok goes to his nephew's birthday, he replaces himself with Hiram Mightor. Among his mistresses you can see Betty Rubble and Wilma Flintstone. When Quick Draw McGraw is pushing it you can see Yogi Bear, Boo Boo and Ranger Smith. You can also see the defending Hillbilly Bears. |
| | "Booty Noir" | In the episode Booty Noir, Nort Wally Gator sues and Harvey defends. Also in the episode Reducto is shown to be acquainted with a woman. In the beginning, Scrappy-Doo is shown getting eaten by a crocodile. Also in the episode you can see Black Vulcan; he is an ex-boyfriend of Reducto's girl. Also Peter Potamus appears three times, reading a newspaper in the park, taking a bird from Wally and enjoying barbecue with friends. |