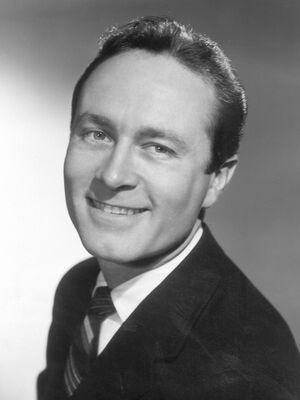 Howard Morris (4 September 1919 – 21 May 2005) was an American comic actor and voice for many Hanna-Barbera characters. He also voiced Flem on Cow and Chicken and the Qantas koala.
Background
Beginning in 1962, Morris played a variety of voices in many Hanna-Barbera series, including The Jetsons, as Jet Screamer, who sang the "Eep opp ork ah ah!" song (said to be Morris' first work for Hanna-Barbera), and The Flintstones.
He was the original voice of Atom Ant, and provided the voice of Mr. Peebles and Mushmouse in the Magilla Gorilla series, teaming up again with Allan Melvin, who performed the voice for Magilla. In another series, Morris was heard as the voice of Breezly Bruin, which was similar in tone to the Bill Scott vocalization of Bullwinkle.
Morris had a disagreement with Joseph Barbera before production of the 1966/67 season of Magilla Gorilla and Atom Ant, and all of his voices were recast, mostly using Don Messick. Years later, the two men reconciled and Morris was back doing those voices and others.
Series Credits