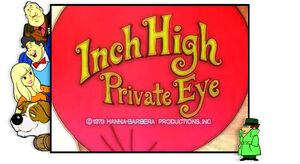 Inch High, Private Eye is an animated series produced by Hanna-Barbera for NBC's '73-'74 Saturday Morning line-up. It debuted 8 September 1973 and ended 31 August 1974, running for 13 episodes. Its place on the schedule was at 8:30am in the Fall of '73 (between Lidsville and The Addams Family) before moving to 9:30am in the Spring of '74 (between Emergency +4 and Butch Cassidy and the Sundance Kids).
Summary
Inch High is a miniature private investigator who works for the Finkerton Detective Agency. He often gets under the skin of his irascible boss, Mr. Finkerton. Inch is assisted by his cute and clever niece
Lori
, their musclebound and somewhat oafish friend Gator, and their ever-loyal St. Bernard, Braveheart. The group travels from case to case in the "Hushmobile", a futurist car that practically glides on air and is super-quiet. Inch's "inch high" size often lands him precarious situations while on the job either digging for clues or confronting suspects. Despite his less than intimidating size, Inch is a gun-ho, no nonsense P.I. who takes what he does very seriously.
Characters/Cast
Inch High (voiced by Lennie Weinrib) - "The world's biggest little detective", Inch is the titular character, a P.I. who is quite literally only around an inch high. Popular voice actor Lennie Weinrib (also the voice of H.R. Pufnstuf, and the original Scrappy-Doo, as well as The Joker, The Penguin, and Commissioner Gordon for Filmation's The New Adventures of Batman, and many, many others) plays Inch High as a perfect blend of comedy legend Jack Benny and Don Adams' Maxwell Smart from Get Smart. In fact, Inch High can often be heard exclaiming "Now cut that out!" or "Sorry about that, Chief!", signature catchphrases of both Benny and Adams, respectively.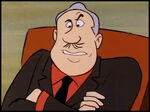 A.J. Finkerton (voiced by John Stephenson) - Mr. A.J. (his real name might actually be Elray) Finkerton is the cantankerous head of the Finkerton Detective Agency (a send up of the famous, real-life Pinkerton Detective Agency [1]) who dreams of one day firing Inch High...this time for good! . Finkerton looks like Mr. Drysdale (Raymond Bailey) from The Beverly Hillbillies and acts and sounds like the great Joe Flynn (Capt. Binghamton of McHale's Navy). Renown voice actor John Stephenson (the voice behind The Flintstones Mr. Slate, zookeeper Eustace P. Peevly on Help!... It's the Hair Bear Bunch!, the original voice of Jonny Quest's father, Dr. Benton Quest, and a whole host of others) channels Flynn to perfection.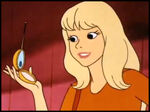 Lori (voiced by Kathy Gori) - Lori is Inch High's niece and an invaluable part his crime solving team. Lori's "Uncle Inch" has been known to go undercover as part of her necklace or do some spying from inside her purse, and can contact Lori through her Compact-phone. The character of Lori seems to have been inspired by the Partridge Familys own Laurie Partridge (played by Susan Dey), which may explain why Lori's name sometimes mistakenly appears as "Laurie" instead. Actress Kathy Gori is probably most familiar to cartoon fans as the voice of the leggy telephone operator, Rosemary of Hong Kong Phooey fame.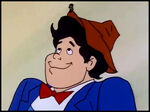 Gator (voiced by Bob Lutell) - Every crime solving team needs muscle and that's "Mr. Inch's" and "Miss Lori's" friend, Gator. Gator is a good-natured, yet dimwitted fellow who drives the group's stealthy electric Hushmobile and longs to one day be a full-fledged detective. Gator is also a master of "1,002 disguises" (including: a granny, a servant girl, and 1,000 others). Gator may have been loosely based on Jethro Bodine from The Beverly Hillbillies (played by Max Baer Jr.) and Jim Nabor's Gomer Pyle of The Andy Griffith Show with his southern accent, brute size, and child-like naivety.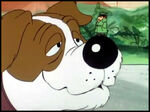 Mrs. Finkerton (voiced by Jean Vander Pyl) - Mr. Finkerton's wife, Felicia is voiced by the ever-talented Jean Vander Pyl (famously the voice of Wilma Flintstone, The Jetsons maid Rosey, and many more). Mrs. Finkerton's voice sounds quite similar to that of Jane Hathaway (Nancy Kulp) of The Beverly Hillbillies, which is most clever, seeing how Miss Hathaway was Mr. Drysdale's secretary, after whom Mr. Finkerton appears to be modeled.
Gallery
Case Guide
Date
Case #
The Case
The Crime
The Suspect(s)
September 08, 1973
IH-01
"Diamonds Are a Crook's Best Friend"
The fabulous Gotrocks diamonds have been stolen!

Hot Fingers Harry

Notes: "Only one man could figure in a robbery this big...Hot Fingers Harry! And we'll find him."
September 15, 1973
IH-02
"You Oughta Be in Pictures"
Every famous work of art in the world has been stolen!

The Pink Lady Thieves

Notes: "Well, on a case like this, one has to put one's self in the picture!"
September 22, 1973
IH-03
"The Smugglers"
Smugglers are smuggling something through the shipyard!

The Zappo Imports Co.

Notes: "Of course! Only a non-existent firm would smuggle non-existent cargo."
September 29, 1973
IH-04
"Counterfeit Story"
Someone's putting counterfeit bills in the bank vaults!

Freddy The Forger

Notes: "There's only one man capable of forging such forgeries...Freddy The Forger!"
October 06, 1973
IH-05
"The Mummy's Curse"
Mummy comes to life! Treasure map stolen! Curse of King Ra's Tomb coming true!

King Ra

Notes: "First we find the Mummy and then we ask him what he did with it!"
October 13, 1973
IH-06
"The Doll Maker"
Department store fur robberies!

Mrs. Rich-Rich

Notes: "To the home of Mrs. Richard Rich-Rich, 329 Easy Street! She's our prime suspect."
October 20, 1973
IH-07
"Music Maestro"
Valuable instruments stolen!

Murray The Musician

Notes: "To grab the one man capable of playing every instrument in a band...Murray The Musician!
October 27, 1973
IH-08
"Dude City"
Gambling!

Dude City Dealers

Notes: "The charge is betting! And that's a form of gambling! And that's illegal in this state!"
November 03, 1973
IH-09
"High Fashion"
Fashion industry in panic after design thefts!

The Bridesmaid

Notes: "The Bridesmaid! It has to be her!"
November 10, 1973
IH-10
"The Cat Burglars"
Cat burglar strikes again! Priceless Ming vase stolen!

The Cat Burglar

Notes: "Number one: You forgot to turn your calendar page this morning. Number two: The vase was stolen by a man with size 8 and 1/2 'D' shoes, who drives a vehicle with a distinctive set of tire tracks."
November 17, 1973
IH-11
"The World's Greatest Animals"
World's greatest animals missing!

Sam Keed

Notes: "Now I ask myself, who would steal the world's greatest animals? The answer is a professional thief, a real pro. And I intend to question the top pro of them all!"
November 24, 1973
IH-12
"Super Flea"
Somebody broke into the lab and stole Super Flea!

Dr. Bug

Notes: "You mean, Dr. Bug was the one who stole him?"
December 01, 1973
IH-13
"The Return of Spumoni"
Pickelangelo statue stolen! Taken by detectives who were holding it for safekeeping!

Finkerton & Inch High

Notes: "No doubt about it, boss. That's us alright! They've got us dead to rights."
Media Copyright: Warner Bros.
Credits
Harvey Birdman, Attorney at Law
Inch High, Private Eye appearances on Harvey Birdman, Attorney at Law [2] Media Copyright: Warner Bros.
Official DVD Release
On 1 May 2012, Warner Bros. officially released Inch High, Private Eye: The Complete Series on Made To Order DVD, as part of the Hanna-Barbera Classic Collection. [3]
External Links
Community content is available under
CC-BY-SA
unless otherwise noted.