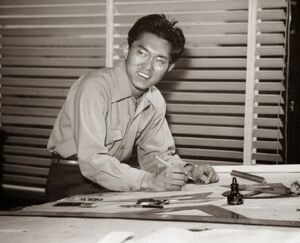 Iwao Takamoto (April 29, 1925–January 8, 2007) was an animator and character designer at Hanna-Barbera Productions. He worked on such series as Wacky Races and Scooby-Doo.
Biography
Iwao Takamoto had recently graduated from Thomas Jefferson High School in Los Angeles when the Japanese bombed Pearl Harbor. He, his parents and his siblings were interned as enemy aliens in the Manzanar internment camp, where he learned the rudiments of drawing and animation from two fellow internees who had worked as art directors at Hollywood film studios.
When given a chance to leave the camp to pick fruit in Idaho, Takamoto applied to Walt Disney for a job as an animator; he spent the weekend before his appointment drawing and sketching almost everything he saw. He got the job as an assistant illustrator working as an apprentice under the tutelage of Disney's "Nine Old Men", particularly Bob Carlson and Milt Kahl.
While at Disney, Takamoto worked on both short films and animated features. In 1961, he left Disney for Hanna-Barbera, where he would have a hand in developing many well-known and beloved cartoon characters, such as Astro, George Jetson's dog; Dick Dastardly and Muttley; Penelope Pitstop, and Scooby-Doo. Shortly before his death, he retired as vice president of special projects for Warner Bros.
External links