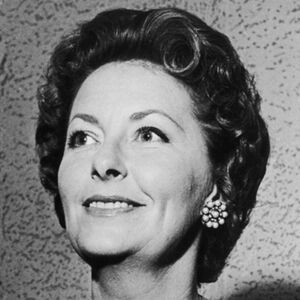 Jean Vander Pyl (11 October 1919 – 10 April 1999; aged 79) was a voice actress best known for playing Wilma Flintstone on The Flintstones.
Biography
Vander Pyl began her career on radio, playing Margaret Anderson on the radio version of Father Knows Best and various supporting roles on the Lucille Ball sitcom My Favorite Husband.
For Hanna-Barbera, she initially played supporting female foils (often witches or fairy godmothers) to Yogi Bear and Quick Draw McGraw before The Flintstones, where she was also heard as baby Pebbles and Mrs. Slate. Subsequent credits include Winsome Witch, Rosie the Robot and Mrs. Spacely on The Jetsons, Ogee on The Magilla Gorilla Show, and Maw and Floral Rugg on The Hillbilly Bears.
Vander Pyl's occasional on-camera work included guest appearances on Leave It to Beaver, Petticoat Junction, The Millionaire, and Hardcastle and McCormick.
External Links
Community content is available under
CC-BY-SA
unless otherwise noted.