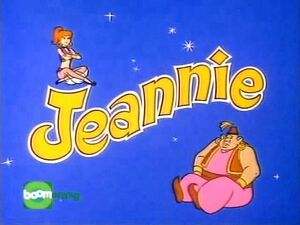 Jeannie is Hanna-Barbera's animated version of the popular prime-time sitcom I Dream of Jeannie, produced for CBS in the early 1970s. The animated Jeannie (Julie McWhirter in her first starring role) was a ponytailed redhead, accompanied by apprentice genie Babu (Joe Besser). Jeannie's master in the cartoon was not an astronaut, but a high school student named Corry Anders. Only Corry and his best friend, Henry, knew who Jeannie and Babu really were.
Jeannie and Babu crossed over to The New Scooby-Doo Movies for one episode. Later in the decade, Babu joined Scooby-Doo's team in the Laff-a-Lympics.
Voice cast
Episodes
Surf's Up
The Decathlon
The Great Ski Robbery
Survival Course
The Power Failure
The Dognappers
The Pigeon
Helen of Troy
The Sailors
The Kid Brother
The Blind Date
The Commercial
Don Juan
The Dog
The Jinx
The Wish
Trivia
Jeannie is the only Hanna-Barbera cartoon series to be owned outright by Columbia Pictures (now part of Sony Pictures Entertainment). Hanna-Barbera had earlier worked with Screen Gems, Columbia's sibling company, creating the opening animation for Bewitched. That show's leads were guest stars in one episode of The Flintstones, and it spun off an animated telefilm, Tabitha and Adam and the Clown Family.
Mark Hamill, the voice of Corry Anders, became better known as Luke Skywalker in the first Star Wars film trilogy and as the Joker on Batman: The Animated Series.
See also
External links
Jeannie at the Big Cartoon Database