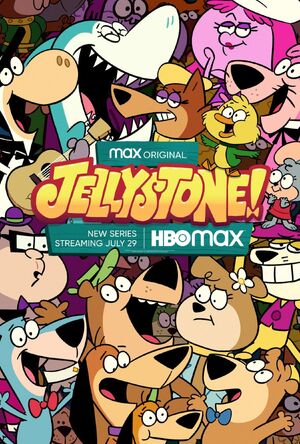 Jellystone! is an animated series for the streaming service HBO Max.
The series stars many Hanna-Barbera characters, as do other crossover shows like Yogi's Gang and Laff-a-Lympics. Returning characters include Pixie and Dixie, Fleegle, Bingo, Drooper, Snorky, Grape Ape, Ding-a-Ling, Hair Bear, Bubi Bear, Chopper, So-So, Ruff, Reddy, Yippee, Yappee and Yahooey, Cavey Jr., Maw Rugg, The King, Big H, Clyde, Yuka-Yuka and Skids.
In contrast with previous Hanna-Barbera media, some of the established male characters are now female in the series for the sake of gender balance; these include Augie Doggie, Jabberjaw, half of Top Cat's gang, Squiddly Diddly and Loopy-de-Loop.[1]
The series made its linear premiere 4 September 2021 on Cartoon Network.[2][3]
An eleven-minute Halloween special "Spell Book" was released 21 October 2021.[4]
Season 2 was released 17 March 2022.[5]
On March 2, 2022, it was announced it was renewed for an additional 40 episodes.[6]
Development
The show was originally set to launch in May 2020 but was released 29 July 2021 instead. The series is produced by Warner Bros. Animation. C.H. Greenblatt, known for series Chowder and Harvey Beaks, and Sam Register both serve as executive producers.[7]
The first season is comprised of forty eleven-minute segments that was packaged into twenty episodes of two segments each; the first twenty segments will stream at launch with the remaining twenty to stream 17 March 2022 as Season 2.[8] On 2 March 2022, it was announced it was renewed for an additional forty episodes.[9]
Summary
While many living in the town of Jellystone work and play and get along together, there is always gonna be some form of trouble happening in one form or another that they have to work together to solve.
Voice Cast
Jeff Bergman - Yogi Bear, Mr. Jinks, Wally Gator, Lippy the Lion, Ranger Smith[10], Dirty Dawg, Snake
C. H. Greenblatt - Boo Boo, Doggie Daddy, Benny the Ball, Peter Potamus, Grape Ape, Drooper, Yahooey, Woofer[11], Mr. Smog
Grace Helbig - Cindy Bear, Granny Sweet, Yappee, Taffy Dare[12]
Georgie Kidder - Augie Doggie, Brain, Floral Rugg, Kitty Jo[13], Snooper, Lotta Litter, Brenda Chance
Katie Grober - Yakky Doodle[15]
Jim Conroy - Huckleberry Hound, Captain Caveman, Bleep, Paw Rugg, Bingo, Yippee, Mightor[16]
Dana Snyder - Snagglepuss, Touché Turtle, Cavey Jr., Lambsy Divey, Tinker[17], Morocco Mole, The Gossipy Witch
Niccole Thurman - Jabberjaw, Squiddly Diddly, Dee Dee Skyes[18]
Paul F. Tompkins - Magilla Gorilla, Fleegle, Mudsy the Funky Phantom, J. Wimple Dimple[19],Space Ghost, Moby Dick, Kwicky Koala
Ulka Simone Mohanty - Loopy De Loop, Boo-Boo's Mom[20]
Tom Lennon - Top Cat, Announcer[21]
Andrew Frankle - Fancy-Fancy, Jonny Quest[23]
Bernardo de Paula - El Kabong, Mildew Wolf, The King[24], Blabber, Captain Swipe
Oscar Reyez - Ruff
Jakari Fraser - Reddy
Scott Whyte - Country
Flula Borg - The Great Gazoo
George Takei - So-So
Rob Riggle - Blue Falcon
Yoshi Amao - Anime Yogi Bear
Gaku Space - Anime Huckleberry Hound
Episodes
Season 1 (2021)
Yogi's Tummy Trouble / Gorilla in Our Midst
Boo Boots / My Doggie Dave
A Coconut to Remember / Grocery Store
Must Be Jelly / Cats Do Dance
VIP Baby You Know Me / El Kabong's Kabong is Gone
Mr. Flabby Dabby Wabby Jabby / Ice Ice Daddy
DNA, A-OK! / Face of the Town!
Cattanooga Cheese Explosion / Squish or Miss
Gotta Kiss Them All / Jelly Wrestle Rumble
A Fish Sticky Situation / A Town Video: Welcome to Jellystone
Spell Book
Season 2 (2022)
Lady Danjjer: Is It Wrong to Long with Kabong?
Baby Shenanigans
Bleep
Yogi's Midlife Crisis
Jellystone Moon Platoon
The Sea Monster of Jellystone Cove
Business
Pants
Uh Oh! It's a Burglar!
It's a Mad Mad Mad Rat Race
The Brave Little Daddy
The Big Stink
Boo-Boo and Benny: Little Buddy Trouble
The Box Thief
Jailcation
Balloon Kids
Augie's Baby
Heroes and Capes
Sweet Dreams
Shorts
Kid Styles for Old People!
A series of shorts in where Augie and her friends give makeovers to the adults. The first short was released 13 September 2021 on the Cartoon Network YouTube channel.[27] The second short was released 18 September 2021.[28]
Welcome to Magilla's
A commercial for Magilla Gorilla's haberdashery was released on September 25, 2021.[29]
Cooking With Winsome Witch
A short in where Winsome Witch teaches how to cook was released on October 2, 2021.[30]
Kabong It!
A commercial in which El Kabong sells a guitar was released on October 9, 2021.[31]
Health & Safety with Doggie Daddy
A short where Doggie Daddy teaches Augie Doggie how to ride a bike was released on November 27, 2021.[32]
Wait-Tea
A short where Huckleberry Hound and Mr. Jinks make a batch of Sun-Tea as various crazy events occur around them was released on December 4, 2021.[33]
Gallery
Videos
References