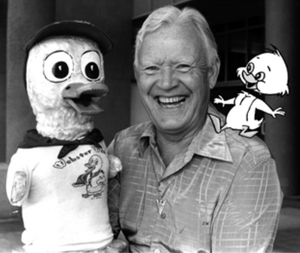 James "Jimmy" Weldon (born Ivy Laverne Shinn, 23 September 1923, Dale, Texas) is an American ventriloquist and voice actor. Although better known as the voice of Yakky Doodle, Weldon also was the voice of Solomon Grundy in Challenge of the Superfriends and provided supporting voices for other Hanna-Barbera cartoons. In his motivational book, Go Get 'Em, Tiger!, he explains why he changed his name.
Biography
Weldon began his broadcasting career as a disc jockey at radio station KWCO in Oklahoma City in 1946, remaining there for four years. He made his television debut in 1950, as "Uncle" Jimmy (himself) and the voice of the duck puppet, Webster Webfoot, on "The Webster Webfoot Show", produced locally by Dallas station WFAA-TV.
Weldon also was host of "The Webster Webfoot Show" at KJEO-TV 47 (now KGPE-TV) in Fresno, California, during the 1960s. Webster Webfoot was a squat duck who was the eternal Webelo Cub Scout, including hat, scarf and Boy Scout emblem choker. Weldon later produced children's Christian programs using Webster Webfoot. Weldon has a full recording studio in his home.
External Links