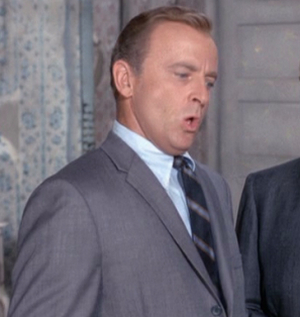 John Winfield Stephenson (9 August 1923 – 15 May 2015) was an American actor who did character voices for Hanna-Barbera from the 1960s into the 1990s.
Series Credits
The Flintstones: Mr. Slate, some supporting characters
Top Cat: Fancy-Fancy, Pierre
The Atom Ant/Secret Squirrel Show: Chief Winchley in the Squiddly Diddly segments
Frankenstein Jr. and the Impossibles: Dr. Conroy
Arabian Knights: Fariq, Bakar
Scooby-Doo: various villains and other supporting characters
The Pebbles and Bamm-Bamm Show: Noodles
Sealab 2020: Captain Mike Murphy
Super Friends: Colonel Wilcox
Butch Cassidy and the Sundance Kids: Mr. Socrates
Yogi's Gang: Doggie Daddy, Hardy Har Har
Inch High, Private Eye: A.J. Finkerton
The Tom & Jerry Show: Tom Cat, Jerry Mouse, some supporting characters
Clue Club: Sheriff Bagley
Scooby's All-Star Laff-a-Lympics: Mildew Wolf, Doggie Daddy, Dread Baron, Fondoo
Casper and the Angels: Hairy Scary
The Kwicky Koala Show: Wilford Wolf
Pac-Man: uncredited cameo roles in "Goo-Goo at the Zoo"
Yogi's Treasure Hunt: Doggie Daddy
Films and Specials
Video Games
Gallery
External Links
Community content is available under
CC-BY-SA
unless otherwise noted.