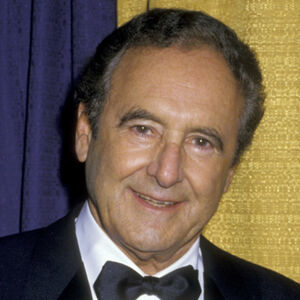 Joseph Rowland "Joe" Barbera (24 March 1911 – 18 December 2006) was an American animator and the junior partner in Hanna-Barbera Productions.
Biography
Barbera was born on New York City's Lower East Side to an Italian immigrant family. As a student at a Roman Catholic school, Barbera showed a natural talent for drawing, and was assigned to draw simple religious scenes on a chalkboard.
In high school, Barbera also developed his writing and acting talents. After an unrewarding stint processing income tax returns for a bank, Barbera had established a career as a magazine cartoonist. From print cartooning he soon switched to animation. Like his future partner, Barbera's first job in animation was as a cel painter for the Fleischer brothers.
Barbera later worked at the Van Beuren animation studios, an extension of Paul Terry's studio. Shortly afterward, the Van Beuren studio closed, and Barbera got a position with Terry himself. From there, Barbera was hired by MGM's new animation unit, where he started a partnership with William Hanna.
Hanna and Barbera first worked together on "The Captain and the Kids", a series of cartoon shorts based on the popular newspaper comic strip. "The Captain and the Kids" was poorly received, but Hanna and Barbera found greater success with Tom and Jerry. The two would also produce seven Droopy cartoons.
In his final years, Barbera was caricatured in the Johnny Bravo episode "Bravo Dooby Doo" and produced the Tom and Jerry short "The Mansion Cat" for Cartoon Network. He was also the executive producer for Warner Bros. Animation and Warner Bros. Television's What's New Scooby-Doo?, Shaggy & Scooby-Doo Get a Clue!, The Karate Guard, and Tom and Jerry Tales. In 2006, Barbera died of natural causes at the age of 95.