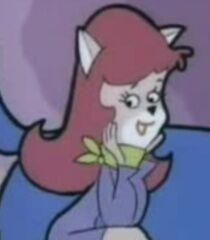 Kitty Jo is a character in Cattanooga Cats. She was voiced by Julie Bennett, with singing voice by Peggy Clinger.
About Kitty Jo
She is the female lead singer and main dancer in the band. She has her own signature dance move that's prominent in the music videos and both the opening and closing credits. She is also Country's girlfriend. They often have romantic moments in the music videos, such as when Country shared a kiss with her in the videos for "Listen to the Sound" and "Mother, May I?" They have danced together in the videos as well. In several of the videos, she has sung the lead. She and Country also dueted in the song "I Never Knew".
She's a redhead with long eyelashes and a tiny, triangle-shaped black nose. She wears her long hair in a flip with her ears sticking out. She's the only Cat that does not have noticeable whiskers. She wears a dark purple dress that comes to her knees, a light green ascot, and white or light green go-go boots depending on the episode.
She's occasionally driven Gashopper, mainly in a few of the music videos. Her huge pet dog Teeny Tim appears in several music videos and gag shorts, mostly centering on the tricks she tries to teach him.
Animatronic versions of her and the other Cattanooga Cats appear in Jellystone!